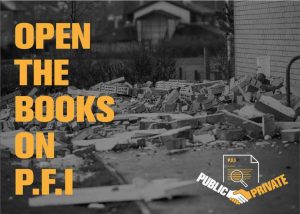 "The first step in challenging the toxic PFI/PPP contracts in Scotland is to end the secrecy and open them up to full public transparency."
PFI/PPP has proved a disaster for Scotland and poses a real danger to sustainable development across the Global South. These secretive contracts for the outsourcing of infrastructure projects – of the type now being promoted around the world as part of the UK government's 'aid' strategy – have seen corporations profit from massively indebting local councils. If we don't act now to challenge this injustice, these are debts that the public will still be paying off for generations to come.  
The full extent of the scandal emerged as schools across Edinburgh built under such contracts were closed due to safety concerns over structural defects.  This was following the collapse of a wall at PFI-built Oxgangs Primary School in the capital.  
On top of the extortionate cost to the public of these woefully inefficient deals, not to mention the inflated interest on the debt, we are continually seeing that the result is substandard, unsafe, and unacceptable.  
Together with Common Weal and The People Vs PFI, we have launched a campaign to shed light on PFI/PPP contracts negotiated in secret as a first step in righting these wrongs.  Freeze new contracts, open the books, and pursue debt justice– this is what we are demanding. Transparency is in the public interest – a legacy of PFI debt is not.
So far the Government have dodged the question and seem to think they have done enough. You can read their response to our letter here. 
Let them know this isn't good enough and keep signing the petition. 
Click here to sign the petition demanding public scrutiny!