On the 12th of November 2022, Jubilee Scotland attended the COP27 march in Edinburgh, part of the Global day of Action for climate justice in solidarity with groups in Sharm El Sheik in Egypt. Several thousand people attended the march starting from St. Andrews Square in Edinburgh. 
Several organisations and society groups across the UK had been planning this event for the last couple of months, focusing on the multiple crises worldwide. This event was one of over 40 events across the UK and Ireland. The march in Edinburgh featured various stops focusing on different issues around the world, where groups and organisations shared their concerns about the environment and climate change, human rights, the living cost and debt justice. It aimed to highlight that the crisis mostly impacts people and places that are not responsible for it. 
The six stops on the march were; 
St. Andrew Square: International Climate Justice: Make Polluters Pay
HSBC, Hanover St: Cancel the Debt for Global South Countries
Santander, Hanover St: End Fossil Fuel Finance
Market St: Solidarity with Egypt: Free All Political Prisoners
UK Government Office, Sibbald Walk: No New Fossil Fuel Projects
Scottish Parliament: End the Cost of Living Scandal – Just Transition Now
Since COP26 in Glasgow last year we haven't seen a lot of action around the mentioned crises.  A lack of action from governments at home and abroad compelled us to attend this event to create a greater focus on these problems and their consequences.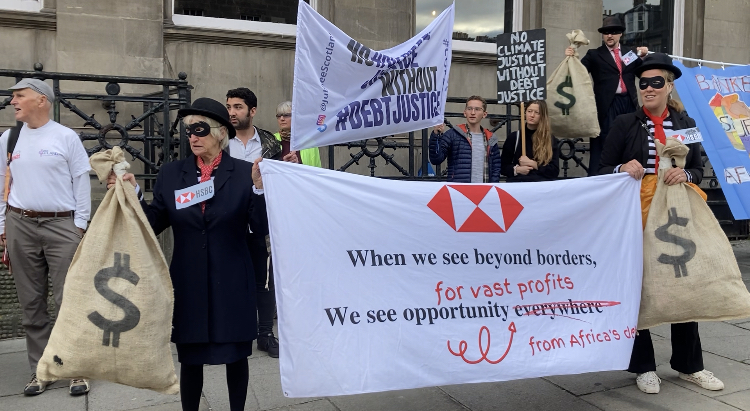 Jubilee Scotland, together with Global Justice Now, created a stop outside HSBC focusing on debt justice. We were protesting outside the bank because they have debt bonds in a number of African countries, which they continue to charge high interest rates for. We were calling on them to cancel the debt in order to free up funds to pay for climate adaptation – climate change is hitting African countries first and worst, and this is a crisis that African countries did least to cause but are paying a high price for. 
With help from stilt walkers, dressed up as bankers, we created a scenario where a map of Africa was squeezed by the bankers to emphasise that the country is suffering from the consequences of both a climate and debt crisis.
As COP27 comes to a close in Egypt, we hope that this mass mobilisation against government and corporate inaction in relation to the climate, social and human rights crisis has helped create more focus and energise them to make a change and find a solution.