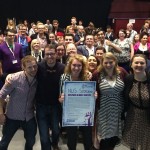 At their conference in spring 2014, NUS Scotland voted to sign Jubilee Scotland's Debt Justice Pledge, and become members of the Jubilee Scotland Coalition. Having the support of NUS Scotland is a brilliant boost for our campaign, but we still need more support from students at universities and colleges across Scotland.
The first step towards doing this is to encourage your union or association to sign the Debt Justice Pledge, and affiliate to Jubilee Scotland. jubilee Scotland can then work with you to hold events like film screenings, teach-ins and workshops.
You can download a sample motion below, and contact Alys if you want any more information or advice.
Sample motion for student unions and associations