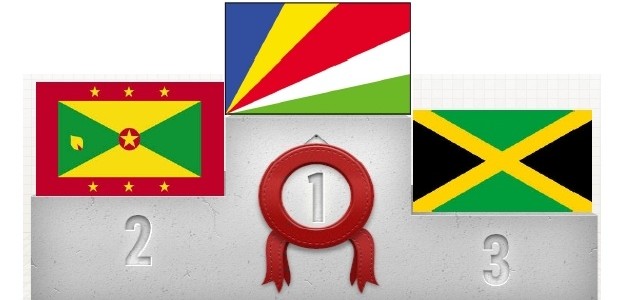 Jubilee Scotland is pleased to announce that at the culmination of the Commonwealth Games, the unfancied Seychelles has emerged as top of the medal table. The idyllic islands, way out in the Indian Ocean, may not have been garnering the attention of the global media this week, but the latest stats indicate that they have streaked far ahead of all other Commonwealth nations.
It really is an astounding turnaround for 'Team Seychelles', after winning a solitary medal at the 2010 Delhi Games. With a population of just 92,000 things haven't been easy, but the concerted efforts of the team are now bearing fruit. Many have said that Australia or England were up there fighting for the number one spot, but the stats show neither country has even made the top 10.
Of course, the Seychelles have not actually suddenly become world-beaters. In Glasgow their true medal table position is currently listed as joint 38th, which as some of you may realise also equates to dead last.
Rather, Jubilee Scotland has produced an alternative Commonwealth Medal Table, looking at each country's national debt per capita. The figures, taken from the latest World Bank Debt Report, indicate that Seychelles is far ahead of other Commonwealth nations, with a debt per capita of $22,084.01. Caribbean states, Grenada and Jamaica, are 2nd and 3rd respectively.
What is perhaps most noticeable from the above table is that 7 of the top 10 are island states. The Commonwealth organisation, backed by its Charter of values and principles, believes itself to be a global leader in understanding the special needs of small island-states. However, as our alternative medal table shows, many of its members are still struggling from crippling debt.
Jubilee Scotland's campaign director Alys Mumford said:
Small Island Developing States often have particular problems, such as a lack of resources and land, or an increased susceptibility to natural disasters. In what is clearly an associated concern, having a small economy also means that the slightest knock can create devastating effects. It is highly counter-intuitive that a response to protect the states most at risk is to encourage them to take on more and more loans. Whilst these loans are meant to help foster development, for a small island with a delicate economy, the ensuing debt and interest payments will only make matters worse. Development assistance to these nations should be given as grants, not loans.
As our table shows, until the Commonwealth backs up the words of its Charter with action, there will always be a sense that for the stronger members the weak states are not worth looking after.