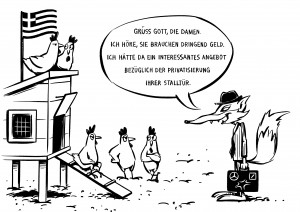 Image courtesy of (erlassjahr.de/Irene Mehl Illustration).
translation: "Good afternoon, ladies. I hear you urgently need cash. I have some interesting offer with regard to the privatisation of your stable door!"
The ECB and EU have successfully beaten down Greece's attempt to prevent more brutal austerity in return for massive bailout loans. Most recently the Greek parliament has approved a third bailout package but only with support from the opposition as 40 Syriza MPs rebelled against the package. Tspiras has now resigned and called for elections stating he needed to 'refresh his mandate' from the Greek people following the latest package (and fearing he would not survive a vote of confidence) after the splitting of the party over the latest bailout.
In return for the € 86bn from the third bailout programme Greece has turned over significant policy making power to the EU. Huge amounts of Greek assets are on the auction block for privatization including: ports, 14 regional airports, water utilities, power and electricity companies, postal service and more.
The issue of debt relief is an outstanding and contentious issue. The IMF is openly calling for significant debt relief while the German government is barely willing to consider increased payment periods and slight deductions on interest rates. The German finance minister went so far as to say: "Outright debt forgiveness doesn't work at all under European law."
Meanwhile it is well worth looking at as money is not going to support the Greek people but instead to banks and creditors. The use of the € 86bn from the third programme is expected to be used to.
€ 54bn to refinance old debts
€ 7bn to clear payment arrears
€ 7.6bn to rebuild reserves
€ 25bn to recapitalize banks.
So it is once again a mix of bank bailout programme and new lending to refinance unsustainable old debts, rather than writing it off. There could be no better example for why we urgently need a just and transparent mechanism for sovereign debt workouts.
Suggested additional reading:
Global Justice Now on Greek privatization
Committee for the Abolition of Third World Debt and how the ECB is acting like a vulture fund