When the Jubilee 2000 coalition came to an end after having successfully put debt on the agenda of world leaders, campaigners realised that sustained pressure was needed to ensure true debt justice. So in 2001, Jubilee 2000 was reborn in Scotland under the name Jubilee Scotland and for almost 15 years we have been leading successful and innovative campaigns to secure justice for some of the world's most vulnerable people. From speaking to politicians, baking giant cakes, cycling across Europe and holding overnight vigils – our supporters have pushed for debt justice in a huge range of ways!
Below are just a few examples of our campaign successes – you can also take a look at our photo galleries to see more of our activities, or download our education guide which has a full history of the debt campaign in the UK.
Make Poverty History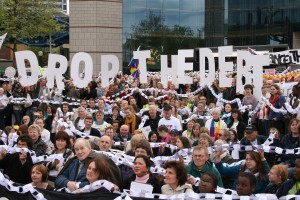 If you wore a white band, wrote to your MP, sat on your school playground, marched in Edinburgh or held hands around the castle, you helped contribute to one of the biggest calls for action in a generation. For many people, Make Poverty History was one of their first experiences of taking action for a better world, and Jubilee Scotland led the charge. Although it didn't change everything it set out to (nobody could claim that poverty is now history!), it marked a change in attitudes towards poverty – recognising that it was the result of political decisions and global economic systems. It also led to significant debt cancellation, though the problem is far from solved.
Vulture Funds
Vulture funds are insidious hedge funds which buy up poor country debts cheap, and then drag the country through the courts until they pay, with no regard for where the debt came from, or the impact that paying it might have on the country, They are debt collectors on a global scale and make huge profits from poverty. Now, thanks to lobbying from people across the UK, these vulture funds are no longer allowed to operate on British soil, meaning relief for many indebted countries (case study). The fight continues, however, as we try to use Britain's experience of banning these funds to help other countries do the same and ensure that they cannot operate anywhere in the world.
No New Climate Debt
Together with the World Development Movement (now Global Justice Now), we campaigned throughout 2010 and 2011 to ensure that climate adaptation funding for countries affected by climate change was given as grants, not loans. There was a real danger that vulnerable countries would be pushed further into debt as they borrowed money from rich countries (who caused the problem!) to deal with the impact of climate change.
Defuse the Debt Crisis
Our campaign to make Scotland a seat of arbitration has received huge support within Scotland and internationally. In 2011 we held a People's Debt Tribunal in the Scottish Parliament featuring Lidy Nacpil,the founder of Jubilee South. This event highlighted the injustice of many debts owed by countries in the global south to the UK, and led to a motion to make Scotland a seat of arbitration on unjust debt – one of the most popular motions of the parliamentary session. This campaign is now incorporated in our call to make Scotland a nation of debt justice.
Scotland: a nation of debt justice
While this campaign is still ongoing (and you can sign our debt justice pledge to show your support) we have already made great strides, with our campaign asks featuring in the Scottish Government's White Paper on Independence, which said they would:
"give careful consideration to the question of unjust debts; will work to ensure that Scottish export policies do not create new unjust debts; and support moves to establish Scotland as an international centre for debt arbitration"
While we did not take a position on independence, this shows the success of our supporters in keeping unjust debt high up the international development agenda.