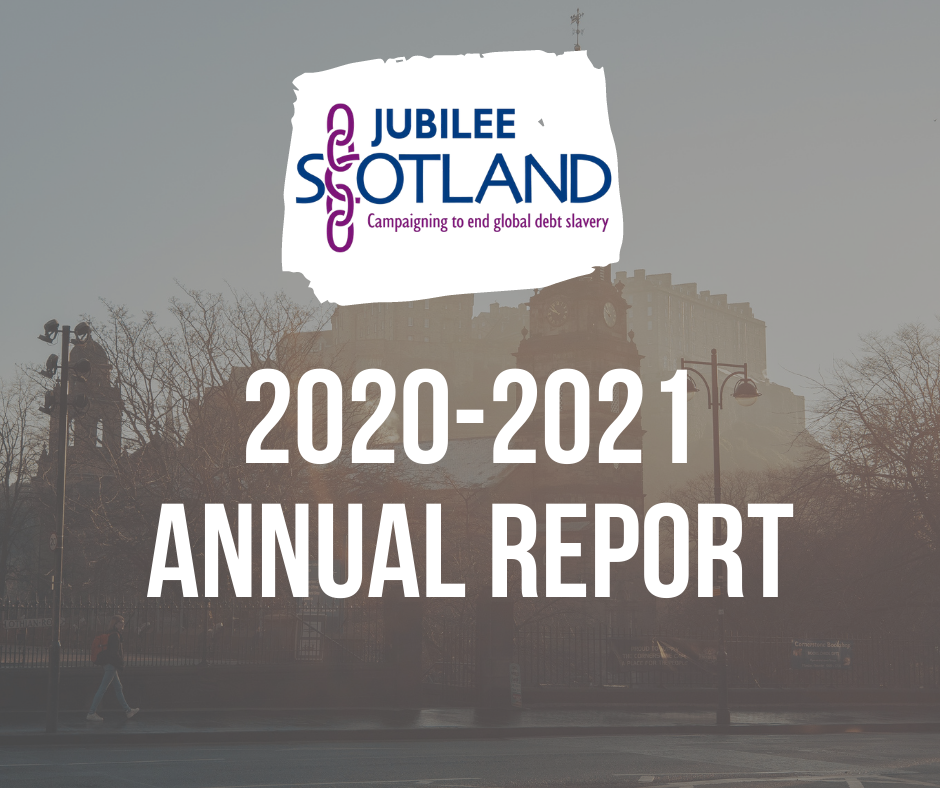 Our Annual Reports provide a summary of our work and campaign successes over the given period. Below you can find reports covering the past few years of debt justice campaigning in Scotland.
This past year has been tough on everyone as the COVID-19 pandemic has taken over many facets of our lives. COVID-19 led us to rethink and adjust our approaches to work, as working from home became obligatory and meetings with our allies became video calls. The concept of a Debt Jubilee gained renewed prominence due to financial crisis brought on by COVID-19.  In collaboration with Oxfam, SCIAF and Stop Climate Chaos Scotland we produced 'Financing Climate Justice', a report that dives into the many ways that Scotland can make an impact. 
Following on from concerns around debt in the fallout of the pandemic we started research into the effect that the burgeoning debt bubble is going to have on the stigma of debt, primarily in the household. Life events – often out of a person's control – are the core cause of increases in household debt. Now that a majority of the new people facing debt issues can trace their issues back to one global life event, could it be enough to change how people perceive debt issues?
We continue to try and take up as many opportunities as possible to work on all aspects on debt justice, build an awareness of the issues associated with debt and engage new people in our work.
Take a look at our report from this year and previous years.
Please do not hesitate to get in touch with any queries about the work of Jubilee Scotland. 
You can contact Campaign Director Line Christensen directly by emailing campaigndirector@jubileescotland.org.uk