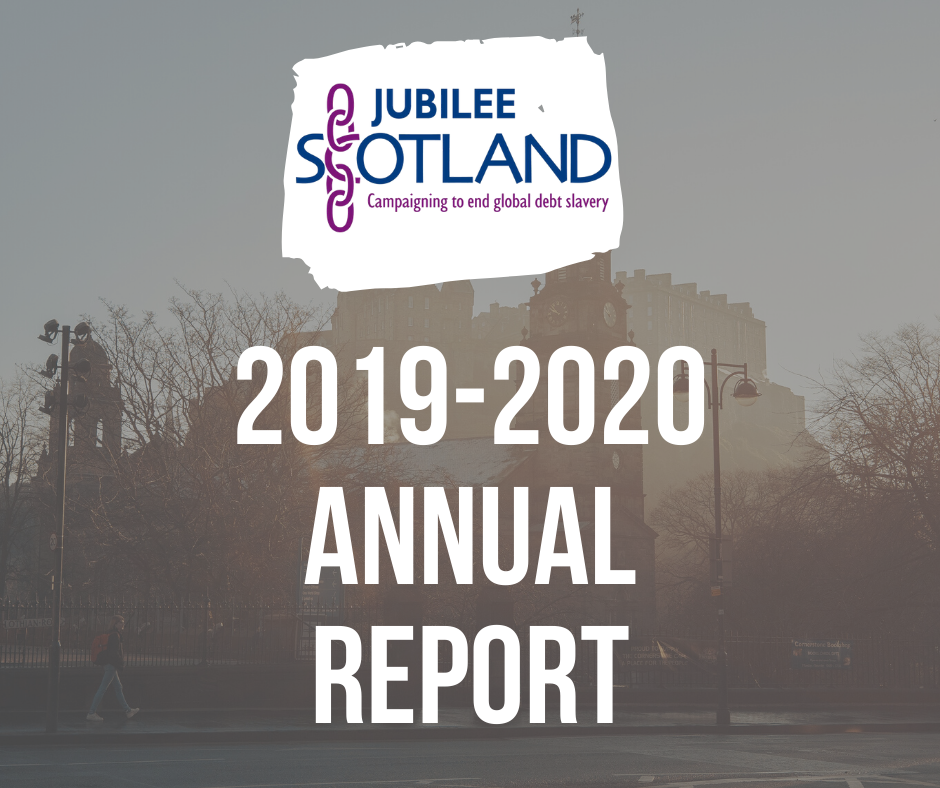 Our Annual Reports provide a summary of our work and campaign successes over the given period. Below you can find reports covering the past few years of debt justice campaigning in Scotland.
The past year has brought many positive developments. We collaborated on a Climate Debt Workshop with Oxfam that brought engaged participants together to discuss the moral and legal implications of the issue during Edinburgh World Justice Festival. In August during the Fringe, we were on a Just Festival panel entitled 'Transition from a consumer to a compassionate society and state'.
In our main campaign this year, we took forward the work we started on exposing Public Private Partnerships (PPPs) in the public sector and conducted research for a report on the negative impact they have have had on Scotland's public services. In January we hosted a book launch for Dexter Whitfield's new book, and successfully hosted the launch of our report recommending alternatives to these schemes at Holyrood. 
We continue to try and take up as many opportunities as possible to work on all aspects on debt justice, build an awareness of the issues associated with debt and engage new people in our work.
Take a look at our report from this year and previous years.
Please do not hesitate to get in touch with any queries about the work of Jubilee Scotland. 
You can contact Campaign Director Line Christensen directly by emailing campaigndirector@jubileescotland.org.uk , or by calling our Edinburgh office on 0131 225 4321.